Climate change and migration: predictions, politics and policy
A new online course, focused on the links between climate change and migration. Study online, for free – and get to grips with one of defining global issues of the 21st century
Climate change and migration: predictions, politics and policy
COMPLETELY ONLINE
Take part in the course online, via live stream
FLEXIBLE
Take part at your own pace. Join the sessions live, or catch up with lecture recording in your own time
TIME COMMITMENT
The course runs betwen February and November 2019, with one session per month. Each session is two hours. The likely time commitment is therefore only a few hours per month
LEVEL
No previous knowledge is required
FREE
There is no fee to participate
How will climate change reshape migration? And what are governments planning to do about it? This online course examines these questions in depth. Over the space of 10 months, this course examines the major issues around climate-linked migration and displacement.
About this course
Climate change is set to play a key role in patterns of human settlement and migration in the future. Altered patterns of drought, storms and sea level rise are already creating new patterns of migration.
This course is intended for anyone wishing to tackle a major global issue.
The course is completely online. You can join the sessions via live stream from your computer. The sessions will provide roughly an hour of lecture input, followed by a chance for discussion. If you can't join the sessions live, you can watch them online anytime, at your own pace. Each session also comes with a collection of recommended reading and watching, so you can investigate the themes and ideas further if you wish.
Course themes
Sessions 1 -3 – getting started
These sessions provide grounding in the links between climate change and migration, as well as research methods used to explore the role of climate change in shaping the human movement.
Sessions 4 -6 – politics
These sessions look at the key political ideas that are shaping how climate migration unfolds, who is impacted and how governments are responding.
Sessions 7 and 8 – policy
These sessions look at the key policy areas where decisions about climate-linked migration are being taken. These sessions look at the major international fora where states negotiate on this issue.
Sessions 9 and 10 – complex crises
These sessions use the tools and learning from the entire course to examine several complex humanitarian crises in which climate change has played a role. They will look at how climate change has created and influenced human movement in and around the impacted areas.
Course sessions and dates
Course session details and dates
Each of the course sessions are detailed here. Once the session date has passed the recording of the lecture and the task will be added here too. 
Getting started: what does climate-linked migration look like? February 14th 2019
In this introductory lecture, we'll look at three testimonies from Mexico, The Philippines and Pakistan. Each tells a different story, and each allows us to look at a different kind of human movement driven by climate change. We'll reflect on the context of each of these testimonies and use them to jump into wider issues surrounding climate-linked migration.
Session 1 task: 
Download the Moving Stories document

. This is a collection of testimonies from people from across the world who have moved – in part – due to the impacts of climate change.

Spend a little time looking through the document and reading a few of the testimonies.

Choose

one testimony to focus on

, and consider the following questions:  
Thinking about the climactic event that is part of this person's testimony – how quickly did it unfold? Did it arrive suddenly, or did it unfold over a number of months?

Thinking about the experience of the person who moved – how much agency did they have? How many choices (if any) did they have? For example could they decide

when

they moved, could they decide where they moved to, could they decide who they moved with?

Focusing on the testimony, did this person cross an international border or not? Are they talking about the possibility of crossing a border? Or are they talking about moving within their own country?

What kind of risks might this person have encountered if they had stayed where they were? And what kind of new or different risks do you think they will encounter as a result of moving?
Now choose

one other testimony

from a different chapter of the Moving Stories collection. Go through the above questions again. Which answers are similar and which are different?
5. If you want, write down the answers to the above questions and post them to the course Facebook group. If you wish, please also post encouraging and constructive comments on other people's posts who have done this
The very big picture. A very brief history of migration and climate change. March 14th 2019
This lecture provides grounding in both climate change and migration. These are two vital building blocks in our exploration of how climate change is reshaping migration. We'll delve into the history of climate change and explore how (some) humans have radically altered the atmosphere. We will then explore some key episodes of human migration in history and examine some of the key concepts that help us analyze existing migration patterns.
What do we know? And what does the future hold? April 18th 2019
We've all seen stark headlines about the future of migration driven by climate change. But how are these predictions reached? This session delves into the research methods we have for examining climate-linked migration. We'll then explore what this evidence tells us about current migration linked to climate change, and finally how we can attempt predictions about the future.
Politics 1: Neoliberalism. May
Can we use the labour market to address climate-linked migration? Should we look into the insurance industry to protect people from climate displacement? Neoliberal thinking has emerged as the dominant way of addressing many global problems. With its reliance on markets and smaller government intervention, it has become the dominant political outlook across the globe. This session looks at how neoliberal thinking emerged, and what its application to climate-linked migration might mean.
Politics 2: Our unequal world. June
This session explores which people are most likely to experience climate-linked migration and the causes behind their vulnerability. Why is it that some people and places are more likely to experience episodes of climate-linked migration? And what are the decisions, ideas and historical events that have created these unequal levels of vulnerability? This session looks firstly at why different locations are more vulnerable, but also at why some people because of their race, gender or religion are more likely to be displaced by climate impacts.
Politics 3: Security - for who? July
The idea of security has come to dominate many governments thinking about migration. Controlling and stopping migration through various security measures have become the 'go-to' policy options for many countries, especially in the West. But what would these ideas and policies look like in an era of climate-linked migration? This session examines how the idea of security has shaped thinking and policy on climate-linked migration – and who the winners and losers are of this approach.
Policy 1: key policy issues. August
We've examined some of the key political ideas behind addressing climate-linked migration, but how are these translating into actual policy and action? This session looks at some of the key policy issues in climate-linked migration. We'll focus on the legal status of people who move due to climate change and policy questions around planning and preparedness for climate-linked displacement.
Policy 2: policy processes and decision-making. September
This session looks at where and how major decisions are made about climate-linked migration. How do governments cooperate on addressing this issue? How are states, communities and individuals represented in these processes? This session will look at several key policy areas where decisions are made about climate-linked migration and displacement. The sessions look at what these policy processes have achieved so far, and what their advantages and limitations are.
Complex crises 1: Syria and the Rohingya. October
We now have a set of analytical tools that we can use to examine some of the most complex situations unfolding across the planet. We'll use the understanding we've gained so far to look at two controversial, contemporary situations: the ongoing conflict in Syria; and the Rohingya refugee situation in Bangladesh. Both of these situations have climate change dimensions – either driving or worsening the situations. We'll use the analytical tools we've gained to create a subtle and nuanced picture of how climate change is involved in these crises.
Complex crises 2: The Pacific Islands and the Horn of Africa. November
Our second session on complex situations analyzes two further crises: the situation on many of the Pacific Islands, and ongoing drought and displacement situation in the Horn of Africa. As with our previous session, we'll use the analytical tools we've gained over the course to unpack the role of climate change in creating human movement in these situations. As this is the final session of the course, we'll also spend some time to look at the future learning and how to pursue your own areas of interest.
FAQ
Does the course cost anything?
The course is completely free
How much time will it take up?
There is one session per month. Each session is roughly 2 hours long. The minimum time is, therefore, two hours, but you can pursue your own interests and follow up using the recommended reading from each session
What equipment do I need?
You need a device with a screen and an internet connection. To join the sessions live, your device will need to be able to access our webinar platform 'Zoom.' You can check the device requirements here. To catch up with the sessions later, you'll need a device that can play Youtube videos.
Are there any prerequisites?
No, you don't need any previous qualifications. We don't assume you have any previous experience in this field.
Is the course accredited by an academic institution?
No
How often are you going to email me?
About twice per month. We'll email you just before the live sessions with a login and joining instructions. We'll also email you just after the sessions when the recording is online. We might need to email you if there are any last minute changes. Your details will be kept in accordance with our Privacy Policy
Is there any assessment?
No, there is no requirement to complete or submit work for assessment
Images on this page:
"Diving Near Slums of Cebu City Philippin" (CC BY-NC-ND 2.0) by AdamCohn
"Pakistan Floods – 6 months on" (CC BY-NC-ND 2.0) DfiD / Russell Watkins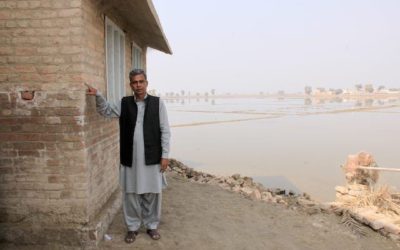 How are migration and displacement being dealt with at the international climate change talks? Find out more with our online event